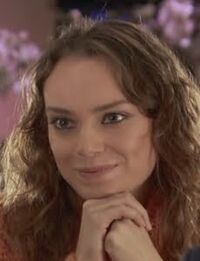 Melek Ataman is Benu Ataman's sister.
She had a brief affair with Mr. Safer, who later died In a plane crash.
After that, she had a semi serious relarionship with Burak Inceoglu, who grew tired of her jealousy and left her.
She works In Binyapi as a PR manager.
She shared an apartment with her sister Benu. After Benu marries Kerem Inceoglu, she had to turn in her apartment and moved with Eda Akinay.
Ad blocker interference detected!
Wikia is a free-to-use site that makes money from advertising. We have a modified experience for viewers using ad blockers

Wikia is not accessible if you've made further modifications. Remove the custom ad blocker rule(s) and the page will load as expected.